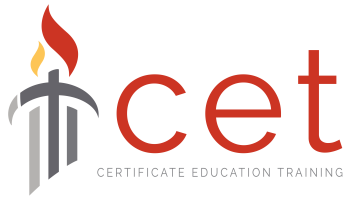 A systematic approach to Sunday Bible Studies.
Frequently Asked Questions:
What is CET?
- CET stands for Certificate Education Training.
- It is an education program that takes a systematic approach to Bible study and is offered on Sunday mornings.
- What is a systematic approach?
A teaching method that uses logical connectivity to produce a certain outcome.
What is the purpose/goal of CET?
Purpose Statement
To transform and disciple believers into the likeness of Christ by systematically teaching biblical truths.
-Matt. 28:19 & 20; Lk.9:23; Rom.12:2, 2 Cor. 3:18; Heb. 5:12
Mission Statement
To provide classes that help students feel, act, think and relate like Christ.
- Eph.4:24; Col.3:10
To provide a systematic program that offers scripture centered and scripture based classes. -Heb. 5:12
General Goal
Our desire is that these certificates serve as a tool towards self-enhancement and/or service in ministry.
How does CET work?
- Students register for one of three certificates.
- Each certificate entails three core classes and two electives.
- Upon completion of the core classes and electives the student receives a certificate of completion.
- A certificate of completion serves as recognition that the student has satisfactorily fulfilled the educational requirements for the specific track.
Does this certificate certify me in that particular area of study?
- No. Progressive will offer certificates of completion rather than professional certifications.
- A professional certification certifies individuals in a said area of profession. A certificate of completion issues a certificate to students who have studied and passed an examination in an area of study.
What kind of certificates and classes will be offered?
- Progressive will offer certificates in various disciplines pertaining to the Christian faith. Certificates will focus on conceptual education (pure learning) and practical education (learning and taking action)
- Classes will include scripture centered and scripture based learning.
Scripture centered - the sole resource is the Bible.
Scripture based - resources may include a combination of the following: the Bible, Christian based resources and/or non-Christian religious resources.
Why should I enroll? How will I benefit?
- Students should enroll because systematic learning in a supportive environment maximizes one's retention and confidence of the educational material.
- Here are just a few benefits students can anticipate:
Wholistic growth - you will enhance your intellectual, spiritual and relational qualitites.
Academic Achievement - receiving a certificate of completion can increase one's sense of achievement which in turn can serve as a powerful motivator towards accomplishing other life goals.
Narrow Way confidence - Jesus commands us to walk the narrow way in Matthew 7: 13-14, yet walking this path is becoming increasingly more difficult in today's culture. The CET courses will give you the tools to choose the road less traveled.
Are there other Bible study options on Sundays?
- PCC also offers one general Sunday School class.